Please continue mailing tithes and offerings to
P.O. Box 16113, Tucson, AZ 85732
Let's maintain our Stewardship for ministry needs!

We are live on our Facebook page at 10:45am every Sunday. Recordings are also available on our YouTube channel.
---
COVID-19 UPDATE
We will assemble again as a Church every Sunday at 10:45AM!
Restrictions and guidelines are in place, so READ BELOW to see what things will be different.
Please take note of what applies to you, and reach out to us with any questions or concerns you may have at (520) 747-9649.
SHINING LIGHT GUIDELINES
Wear A Face Covering/Mask at ALL TIMES.
Wash & Sanitize Hands Frequently.
Maintain 6ft Social Distancing.
ACCESS: ONLY Bathrooms, Hallway and Auditorium will be open.
SEATING: Pews will be marked for social distancing (SIT IN MARKED AREAS ONLY).
Pews will accommodate the 6ft distancing guidelines.
Please sit together as a family, and ONLY with others you feel comfortable with.
Please AVOID physical contact with each other, and do not congregate in the lobby or bathrooms.
Anyone in the high risk categories (65 or older, with underlying conditions or compromised immune systems) are encouraged to stay home if they are not comfortable attending in person.
If you have symptoms of ANY illness, especially a fever, please stay home.
Let's be safe, cooperate with guidelines and be considerate of others!
OFFERINGS: Can be placed in the offering trays before or after services or continue mailing them to P.O. Box 16113, Tucson, AZ 85732. Let's maintain our Stewardship for ministry needs! (An online option may be available soon)
DISMISSAL: Services will be dismissed by sections for social distancing safety.
NOTE:
Please bring your personal drinking water if needed! The water fountain will not be available.
We will do our best to maintain a safe, sanitized and clean environment.
If you think it is best not to attend in person at this time, we understand.
We are praying that this is soon behind us, and any health risks, due to COVID19, ends. (Psalm 27:14)
WEBSITE BROADCAST INFORMATION
If you are not able or do not feel comfortable attending services in person yet, please take advantage of these options:
Livestreamed services, Sunday morning (10:45am).
Previously recorded services of Shining Light are also available.
At this time, NO OTHER SERVICES will be offered.
SUNDAY SCHOOL/CHILDREN'S CHURCH/NURSERY/SUNDAY PM & WEDNESDAY SERVICES
We will inform you when these services resume.
Children will need to remain with their parents at all times.
PARENTS, please talk to your children in advance about interacting with their friends with social distancing.
TRANSPORTATION
We will inform you when the Van Ministry resumes.
Thank you in advance for your cooperation!
Pastor & Mrs. Dawson
Let your Light So Shine…
Matthew 5:16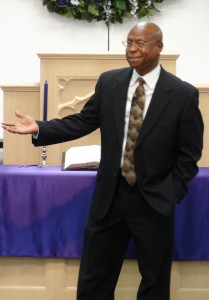 About Us
Shining Light Baptist Church stands on the King James Version of the Holy Bible and we use The Word of God "in spirit and in truth".
We Are An Independent Church
We are free from all outside control or denominational hierarchy and acknowledge our direct responsibility to the Lord Jesus Christ alone.
See: Colossians 1:18
We Are A Fundamental Church
We take The Bible literally. We believe the Scriptures are inerrant, the authority for our faith and practice, and applicable for our daily lives. We hold to the fundamentals of the Christian faith including the verbal inspiration of scripture, the virgin birth, the Deity of Christ, His sacrificial death and blood atonement for our sins, His bodily ressurection from the dead, the depravity of man and salvation by grace through faith.
See: 2 Timothy 3:16
We Are A Baptist Church
We believe and practice the Scriptures. We believe in Salvation by grace through faith in Christ alone, as a free gift, then baptism by immersion should follow. We hold to the Baptist Distinctives without apology.
See: Ephesians 2:8-9; Matthew 28:19
We Are An Evangelistic Soul Winning Church
Our mission is to reach people for Jesus Christ and we endeavour to obey this command by our soul-winning programs.
See: Acts 1:8
We Are A Church with Christ Honoring Music
Our desire is to glorify the Lord and minister to people by bringing them into an attitude of worship through hymns and music that uplifts Jesus Christ.
See: Psalms 69:30; Psalms 100:2-4
We Are A Separated Church
We are separated from religious ecumenical inclusivism encouraging believers to live a life of personal separation from a wordly lifestyle and doctrine. We believe in the doctirne of separation.
See: 2 Corinthians 6:14-18
We Are A Missionary Church
We believe a scriptural church must obey the Great Command, "…Go ye into all the world and preach the gospel to every creature.